Williams Jazz Ensemble
Friday, October 25, 2013 at 8:00pm
Chapin Hall 62 Chapin Hall Dr, Williamstown, MA 01267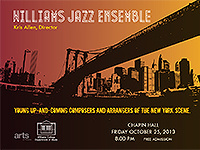 The Williams Jazz Ensemble gives its first concert under the direction of Kris Allen presenting an exciting evening of classic big band swing on the stage of Chapin Hall. The ensemble presents works from their traditional and contemporary repertory. This free event is open to the public.
Share

Subscribe

Event Type

Department

Website
Cost

FREE
Peter Cronin left a positive review
10/25/2013
I usually listen to the first and last ensemble sessions and hear improvement; this time I don't think it can get any better!