Williams Chamber Players
Friday, September 6, 2013 at 8:00pm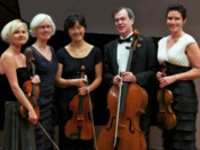 The Williams College Department of Music presents the Williams Chamber Players in their first concert of the season, Friday, Sept. 6, at 8 p.m. in Brooks-Rogers Recital Hall on the Williams College campus. This free event is open to the public.
Harpist Elizabeth Morse and violist Ah ling Neu are joined by flutist Ceora Jaffe for a performance of Debussy's Trio for Flute, Viola and Harp. Johannes Brahms' Piano Quartet in C minor op. 60 is performed by Joanna Kurkowicz, violin; Ah ling Neu, viola; Ronald Feldman, cello, and Doris Stevenson, piano.
The program includes early music by Artist Associate in Trumpet Nathan Botts, who on this occasion will be playing cornetto, an ancient member of brass family. Together with harpsichordist Edwin Lawrence they perform music of the 16th century by Des Prez, de Cebezon, de Rore and Bovicelli.
Members of the vocal faculty are also featured as Keith Kibler appears with Doris Stevenson and Erin Nafzinger. They will be performing a selection of songs by Richard Rogers and Oscar Hammerstein.
Share

Subscribe

Event Type

Department

Website
Cost

FREE