Where is the left left in Israel?
Monday, November 12, 2012 at 4:00pm to 5:00pm
Griffin Hall, Room 7 844 Main St, Williamstown, MA 01267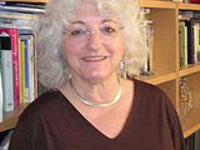 Professor Galit Hasan-Rokem, Croghan Bicentennial Visiting Professor in Jewish Studies, will be sharing reflections on Israel.
Co-sponsored by Middle East Studies, International Studies and the Chaplain's Office.
Share

Subscribe

Event Type

Department