The Surprising Platonism of Hannah Arendt
Thursday, November 7, 2013 at 6:00pm to 7:30pm
Griffin Hall, 1 844 Main St, Williamstown, MA 01267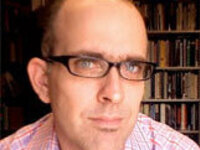 Ranging from Plato's Symposium to seismic testing in postwar Las Vegas, this lecture will explore the complex triangular relationship among Hannah Arendt, Plato, and Martin Heidegger, presenting an unorthodox picture of Arendt's critical histories of political philosophy and modern science.
Patchen Markell is Associate of Political Science at The University of Chicago. He has wide-ranging interests in contemporary political and social theory and the history of political thought. Markell is especially interested in the disparate theoretical traditions that trace their roots back to Kant, Hegel, and Marx; in the political thought of Greek and Roman antiquity, as reflected in literature as well as philosophy, and its reception by later thinkers; in 19th and 20th century American political thought, especially on the Left; in the history of the intellectual self-understandings of political theorists inside and outside the discipline of political science; and in several areas of 20th-century and contemporary theory and philosophy that cut across the distinction between "continental" and "Anglo-American," including feminist and queer theory, ethics, aesthetics, and the philosophy of language. Thematically, much of Markell's work has been concerned with the nature and conditions of political action and political agency, especially in relation to other important phenomena as identity, power, and democracy. Markell is the author of the award-winning work, Bound by Recognition (2003), as well as numerous articles and essays in scholarly periodicals. He is currently completing a book on Hannah Arendt's The Human Condition.

This talk is sponsored by the Department of Political Science, Lecture Committee, Jewish Studies, Philosophy, Women's, Gender & Sexuality Studies, German, History, and Religion.
Share

Subscribe

Event Type

Department