THE RITZ by Terrence McNally
Saturday, November 17, 2012 at 7:30pm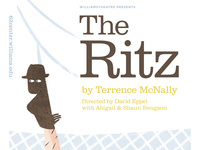 Williamstheatre presents THE RITZ! A gay bathhouse in 1970's New York, a murderous mafia brother-in-law on the rampage, cowboy chapped cruisers, and the fabulous wonderful glorious Goggie Gomez –hot from Puerto Rico and Broadway-bound! These and other mature themes coming shortly to the Adams Memorial Theatre. Don't miss THE RITZ, written by one of America's premier playwrights, Terrence McNally. Directed by David Eppel with Abigail & Shaun Bengson.
OPENING NIGHT PARTY THURSDAY AFTER THE SHOW!
PRIZE FOR BEST 70's COSTUME!
Share

Subscribe

Event Type

Department

Website
Cost

$3