The End of US Hegemony in the Hemisphere?
Tuesday, September 24, 2013 at 2:45pm
Griffin Hall, Room 3 844 Main St, Williamstown, MA 01267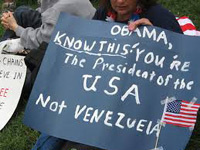 International Studies Colloquium with James Mahon, Woodrow Wilson Professor of Political Science. Professor Mahon teaches courses on political economy, comparative politics, U.S.- Latin America foreign relations, and Latin American politics. His current research examines fiscal politics and the reform of the state in Latin America.
Share

Subscribe

Event Type

Department