Stew and the Negro Problem
Saturday, November 10, 2012 at 8:00pm
MainStage, '62 Center 1000 Main St, Williams College, Williamstown, MA 01267, USA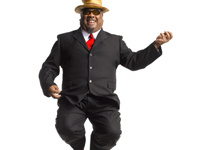 Stew, a Los Angeles-bred musician, launched the Negro Problem in the early '90s and garnered mainstream attention with the stage production Passing Strange, which won a 2008 Tony Award for 'Best Book of a Musical.' Challenging racial preconceptions though their music, Stew and his collaborator Heidi Rodewald rose through the ranks of the local indie scene with their Afro-Baroque band The Negro Problem. Two-time Obie winner and four-time Tony nominee, Stew leads, along with his collaborator Heidi Rodewald, two critically acclaimed bands: The Negro Problem and the multi-disciplinary ensemble known as Stew. Students may also recognize Stew as the composer of "Gary Come Home" for SpongeBob SquarePants.
See publicity in the Albany Times Union.
www.timesunion.com/entertainment/art...lem-to-play-free-show-at-4016648.php
Reserve tickets online by clicking the tab above or by calling 413-597-2425, Tues-Sat, 1-5 pm.
Share

Subscribe

Event Type

Department

Website
Cost

Free and open to the public. Tickets required.