Space Law Seminar
Thursday, April 18, 2013 at 7:30pm to 9:00pm
Griffin Hall, Room 3 844 Main St, Williamstown, MA 01267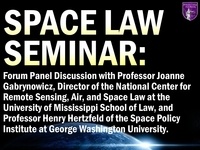 Space Law is perhaps the most undefined field of law, but is also the fastest growing, and perhaps on of the most important in the coming years, as technological advances increase. At the nexus of relationships between space agencies, private companies, governments, and various fields of law including environmental law, maritime law, international law, contract law, cyber law, and others, the field of Space Law & Policy is complex, and it is important to give people a perspective on this exciting field and career.
Guest Panelists:
Professor Henry Hertzfeld (Elliott School of International Affairs, Space Policy Institute, George Washington University)
Professor Joanne Gabrynowicz (Director, National Center for Remote Sensing, Air, and Space Law, University of Mississippi School of Law)
Michael Schlabs (NASA's International Law Practice Group)
There will be a Space Law Dinner at Sushi Thai at 6PM Sign-up:
https://docs.google.com/spreadsheet/ccc?key=0Am-bfproILehdE9NcjJoNW9CMXdDcFNpcG1SNHRnLUE#gid=0
Thursday, April 18th, 2013
7:30 pm
Griffin 3
Co-sponsored by NASA Massachusetts Space Grant Consortium, College Council, the Dean's Office, Career Center, Lecture Committee, and the Departments of Political Science, Astronomy, and Physics.
Share

Subscribe

Event Type

Department

Website