Screening of "Flow: For Love of Water"
Friday, April 26, 2013 at 4:30pm to 6:00pm
Bronfman Science Center, 002 Auditorium 18 Hoxsey St, Williamstown, MA 01267, USA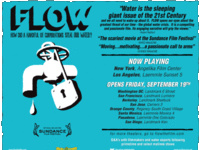 For Water day of No Impact Week, TNG will be screening "Flow: For Love of Water." This award-winning documentary investigates what experts label the most important political and environmental issue of the 21st Century: the world water crisis. Building a case against the growing privatization of the world's dwindling fresh water supply, the director focuses on politics, pollution, human rights, and the emergence of a domineering world water cartel.
Share

Subscribe

Event Type

Department