QSU Presents: Night Out - Fairytale
Saturday, November 10, 2012 at 10:00pm to 2:00am
Goodrich Hall 863 Main St, Williams College, Williamstown, MA 01267, USA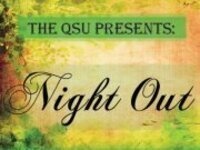 The QSU's Night Out Party is Saturday, November 10th at 10 PM in Goodrich.
This year's theme is The Magic of Fairy Tales! Bring your wands and shining armor! Sparkle as your shiny fairy selves and dance the night away with all your magical friends.
There will be light snacks and refreshments. Disney movies will be projected on the main stage all night!
This will be a safer space. Feel free to consensually dance up on each other, but please be respectful of other's boundaries. Anyone engaging in non-consensual behavior will be asked to leave. Remember: consent is magical.
Share

Subscribe

Event Type