Phallacies - A Masculine Performance
Thursday, January 31, 2013 at 10:45am to 12:00pm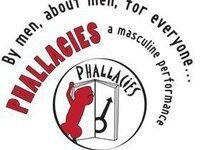 Claiming Williams is pleased to welcome back Phallacies for the second year in a row. Co-directed by our own Taj Smith of the Davis Center, this all-male performance group provides leadership development, health education, and violence prevention for men via innovative educational theater. They engage men in critical conversations and direct action to challenge acceptance of the unhealthy aspects of traditional masculinity and support expression of multiple masculinities. Using dialogue and theater, Phallacies expands definitions of masculinity, creates healthier men and healthier communities.
This event was standing room only last year, so get there early to get a seat! Part of Claiming Williams 2013. Intended for Williams students, faculty, and staff.
Share

Subscribe

Event Type

Department

Website
Cost

no tickets required
Marcela Peacock left a positive review
1/31/2013
Full house- Good presentation. Issues well presented!