Orit Shaer, Claire Boothe Luce Asst. Professor
Monday, January 13 at 4:00pm to 5:30pm
Wege Auditorium, Chemistry, Room 123 Lab Campus Drive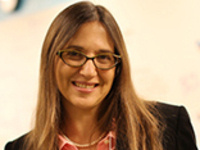 "Enhancing Collaborative Discovery through Reality-Based Interaction"
Over the past two decades, Human-Computer Interaction (HCI) research has generated a broad range of interaction styles that move beyond the desktop into new physical and social contexts. Key areas of innovation in this respect include tabletop, tangible, and embodied user interfaces. These interaction styles leverage users' existing knowledge and skills of interaction with the real non-digital world, thus are often referred to as Reality-Based Interfaces. By drawing upon existing skills, reality-based interfaces offer the promise of a natural, intuitive, and often, collaborative form of interaction.
In this talk, we will examine the strengths and limitations of applying reality-based interaction to enhance collaborative learning and discovery in areas where vast amount of abstract information is accessed and manipulated. I will present projects that apply reality-based interaction to enhance collaborative exploration and learning in biology. Through various case studies, I will highlight what design factors are important for developing reality-based interfaces that enhance scientific discovery and inquiry.
Orit Shaer is the Clare Boothe Luce Assistant Professor of Computer Science and Media Arts and Sciences at Wellesley College. She directs the Wellesley College HCI Lab. Her research in Human-Computer Interaction (HCI) focuses on 3D, tangible, tabletop, and mobile interaction as well as on computer-supported collaborative learning. Her current projects include the design and evaluation of a tabletop user interface for genomic research, and the development of computational tools for enhancing innovation in bio-design. Dr Shaer is a recipient of several National Science Foundation and industry awards including the prestigious NSF CAREER Award, Agilent Technologies Research Award, and Google App Engine Education Award. She received her PhD and MSc in Computer Science from Tufts University. She has been a research fellow in the Design Machine Group at the University of Washington and in the University College London Interaction Center.
Share

Subscribe

Event Type

Department
Cost

Free