Barbara Ehrenreich: Nickel and Dimed
Thursday, November 8, 2012 at 7:00pm
MainStage, '62 Center 1000 Main St, Williams College, Williamstown, MA 01267, USA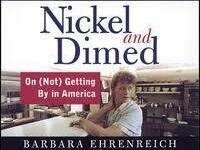 Barbara Ehrenreich is the author of 21 books, including the New York Times best sellers, Nickel and Dimed: On (Not) Getting By in America (2001) and Bright-Sided: How Positive Thinking Is Undermining America (2010). She is a frequent contributor to the New York Times, Harpers, the Progressive and Time magazine, and has appeared on Oprah, The Daily Show, The Colbert Report and The Joy Behar Show, to name a few. Ehrenreich's visit is sponsored by Williams Reads, the Class of '71 Public Affairs Forum, Elections 2012, the President's Office, and Claiming Williams. Book signing to follow.
Reserve tickets online by clicking the tab above or by calling 413-597-2425, Tues-Sat, 1-5 pm.
Share

Subscribe

Event Type

Department

Website
Cost

Free and open to the public. Tickets required.