Nazareth Academic Institute: Access to higher education for young Arab Palestinian women and men.
Thursday, March 7, 2013 at 7:30pm
Jewish Religious Center 24 Stetson Ct, Williams College, Williamstown, MA 01267, USA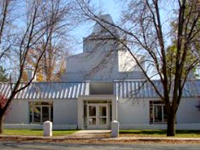 Dr. Robert Prescott of Bradley University and Member of the board of directors will be speaking about the Nazareth Academic Institute in Israel.
NAI is a new multi-ethnic Israeli college serving the educational needs of the young people of the Galilee, the great majority of whom are Arab citizens of Israel. At the heart of NAI's mission is a unique core curriculum in liberal arts devoted to peacemaking. Designed to encourage cooperation by embracing difference, the Peace Studies core has students evaluate conflicting regional narratives, learn skills for reaching consensus, and engage in real-world projects with diverse community partners. The talk is open to all members of the community and will be held
Thursday, March 7 at 7:30 pm at the JRC.
For further information contact gary.caster@williams.edu in the Chaplains Office.
Share

Subscribe

Event Type

Department