"My White Friends": Photography, the Photographic Object, and Notions of Race
Thursday, January 31, 2013 at 10:45am to 12:00pm
Williams College Museum of Art 15 Lawrence Hall Dr, Williams College, Williamstown, MA 01267, USA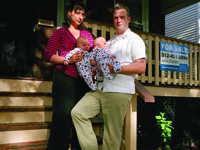 Stephanie Dunson, Director of the Williams College Writing Center, and Harry Gilbert '14 will facilitate a workshop at the Williams College Museum of Art regarding race, (re)presentation, power, and privilege with selected works from Myra Greene's collection, "My White Friends". By photographing friends, peers, and mentors, Greene visually ponders if photography can capture and describe the nuances of whiteness. Through Greene's works, community members can probe the relationship of race, power, and privilege at Williams, considering constructions of race on campus; and conceptions of power relations and race in the United States as well.
Part of Claiming Williams 2013. Intended for Williams students, faculty, and staff.
On February 8, photographer Myra Greene will join Prof. Leslie Brown and Harry Gilbert in a conversation on her work. The works will be displayed from Jan 31 to Feb 28, 2013.
Share

Subscribe

Event Type

Department

Website