How'd You Get There? Grab Lunch with the Man Who Built Best Buy
Thursday, March 7, 2013 at 12:30pm to 2:00pm
Mears House, Mears Lewis Room, Career Center 75 Park St, Williams College, Williamstown, MA 01267, USA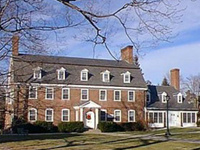 Do you have a passion for business strategy or company planning? Interested in hearing firsthand one of the biggest modern success stories in corporate retail?
Have an enthusiasm for entrepreneurship? Want to hear from someone who has started his own consumer products and consulting companies?
Join us at the Career Center for:
How'd You Get There?
Grab Lunch with the Man Who Built Best Buy-Wade Fenn '80 (Parent 16)
Thursday, March 7, 2013
12:30 p.m.-2:00 p.m.
Mears Lewis Room, Career Center
Limited Seating is available. Please sign up on the Route 2 system.

Wade Fenn '80 (Parent '16) joined Best Buy when it was a regional retail company specializing in audio equipment, operating primarily in Minnesota with 60 employees and $4 million in total sales. Guided by Mr. Fenn's strategic vision, marketing and operations savvy, and executive leadership, Best Buy expanded into a nationwide consumer electronics retailer with 90,000 employees and $22 billion in sales. In his 22 years with Best Buy, he recruited and developed several top leaders many of whom went on to lead fortune 500 companies.
In 2002, Mr. Fenn founded two start-ups: Navvo and RetailMasters. Navvo is a cutting-edge consumer goods and mobile app development company that integrates voice control with digital content management and media streaming. With its groundbreaking VOCO (Voice Control) product line, consumers can enjoy photo and video, access digital content wirelessly, and play music throughout the house—all at just the sound of a voice. In addition, Mr. Fenn is a Managing Partner for RetailMasters, a retail research and consultancy start-up that designs winning retail strategies able to adapt to change and cope with competitive environments.
Mr. Fenn can offer advice on business development and planning; marketing, advertising, and merchandising; store management, supply chains, and operations; and general knowledge on the world of retail. He also his experience with entrepreneurship, and can provide counsel on starting and growing new businesses.
Share

Subscribe

Event Type

Department