Fiscal Cliff: A Discussion
Thursday, January 24, 2013 at 5:45pm to 6:45pm
Griffin Hall, 4 844 Main St, Williamstown, MA 01267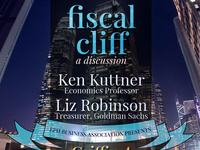 Come join the Eph Business Association for a discussion about the fiscal cliff with Professor Kenneth Kuttner from the Williams Economics Department and Liz Robinson, the treasurer of Goldman Sachs. The discussion will be conversational and casual in tone.
What is the fiscal cliff? What is the current "deal" and its implications? What about the debt ceiling? How does all of this affect financial markets and institutions? We will address all of these questions and more.
Recommended reading to brush up on the topic:
bonds.about.com/od/Issues-in-the-News/a/What-Is-The-Fiscal-Cliff.htm
www.cfr.org/international-finance/us-debt-ceiling-costs-consequences/p24751
Cookies and Sushi House snacks will also be served! We hope to see you there!
Share

Subscribe

Event Type
Group