Tom Piazza to Present Reading about Post-Katrina New Orleans
Thursday, November 8, 2012 at 4:00pm to 6:00pm
Griffin Hall, 3 844 Main St, Williamstown, MA 01267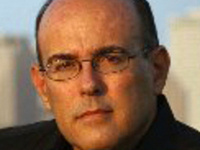 Tom Piazza '76 will present a reading, "Fiction versus Nonfiction, Life in Post-Katrina New Orleans, and Writing for HBO's Treme," at 4 p.m. on Thursday, Nov. 8 in Griffin Hall, room 3, on the Williams College campus. This event is free and open to the public.
Fiction writer, music critic, journalist, lecturer, and jazz pianist, Piazza has published 10 books and written for The New York Times, The Atlantic, Bookforum, The Oxford American, Columbia Journalism Review, and other publications. After temporarily moving from New Orleans to Missouri in the aftermath of Hurricane Katrina, Piazza began to write his acclaimed book, Why New Orleans Matters. This post-Katrina work was written in five weeks and published almost immediately. Piazza's other novels include City of Refuge (2008), which won the Willie Morris Award for Southern Fiction, and the Faulkner Society Award-winning My Cold War (2003). His short-story collection, Blues and Trouble, won the James Michener Award for Fiction in 1996. Bob Dylan has said, "Tom Piazza's writing pulsates with nervous electrical tension—reveals the emotions that we can't define." Piazza's most recent publication is a collection of essays and journalism, Devil Sent The Rain (2011). Piazza is currently a writer for the HBO drama series Treme.
Piazza's love of writing—and New Orleans—have always been intertwined with his love of music. He became the youngest writer to appear in the jazz magazine Downbeat at age 16, hosted a radio show as a student at Williams, and became the first conductor of the Williams Jazz Ensemble. He also started a yearly jazz festival on the Williams campus. He won a Grammy Award for his album notes to Martin Scorsese Presents The Blues: A Musical Journey in 2004 and has won the ASCAP-Deems Taylor Award for Music Writing three times.
Piazza graduated from Williams in 1976. He is also a graduate of the Iowa Writers' Workshop. He currently lives in New Orleans and is working on a new novel.
Share

Subscribe

Event Type

Department

Website