Dr. Iruka Okeke, Haverford College
Friday, November 9, 2012 at 1:10pm
Thompson Biology, 112 59 Lab Campus Dr, Williamstown, MA 01267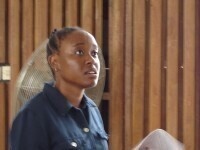 Biology Department Colloquium
"Colonization is not just adherence: Interplay of bacterial surface proteins of enteroaggregative Escherichia coli"
Enteroaggregative Escherichia coli are a category of diarrhea-causing E. coli defined by their characteristic stacked-brick pattern of adherence. Our laboratory uses EAEC strains as models for exceptional colonization. The EAEC strains we study express aggregative adherence fimbrae, outer surface agglutinins and an anti-aggregative factor. These three factors have, as is traditional, been studied separately. We find that optimal colonization by EAEC is produced by the interplay among these and potentially other factors.
Share

Subscribe

Event Type

Department

Website