Dangerous Times Ahead? Will the Arab Spring bring Democracy to the Middle East?
Wednesday, November 7, 2012 at 7:30pm
Griffin Hall, Room 3 844 Main St, Williamstown, MA 01267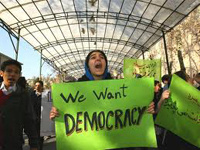 Eric Davis is a Professor of Political Science at Rutgers University and past director of the University's Center for Middle Eastern Studies. His research has included the study of the relationship between state power and historical memory in modern Iraq, the political economy of Egyptian industrialization, the ideology and social bases of religious radical movements in Egypt and Israel, and the impact of oil wealth on the state and culture in Arab oil-producing countries. This talk is co-sponsored by the Gaudino Fund and the W. Ford Schumann '50 Program in Democratic Studies.
Share

Subscribe

Event Type

Department