WCMA at Night: Cultural Snapshots, the Crescent Cafe
Thursday, November 21, 2013 at 5:00pm to 9:00pm
Williams College Museum of Art 15 Lawrence Hall Dr, Williams College, Williamstown, MA 01267, USA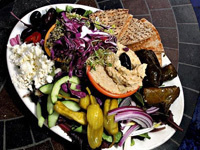 Get an offbeat art fix, pick up an artful skill, and convene with creative spirits from across campus at WCMA at Night. The Williams College Museum of Art and Williams Reads join forces for a poetic and performative look at intercultural encounters. Tap into the creativity of Now Dig This! artists. Craft a flash assemblage. Hang out in the Crescent Café and take in the sounds of Arab music and culture.
Share

Subscribe

Event Type

Department

Tags

Website
Marybeth Mitts left a positive review
11/21/2013
Cool use of video on the walkway at the Museum entrance. The food was terrific, great drink options, Ephoria entertained, interesting artistic performances and fun games and activities throughout WCMA! I always have a good time, see something new and explore the art in a different way when I go to WCMA at Night. If you haven't gone yet, you need to--never a dull moment!