CoDa at MoCA: LeWitticisms
Thursday, November 1, 2012 at 6:30pm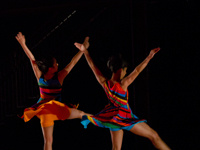 Join us for an evening of exciting new music and contemporary dance in the MASS MoCA galleries inspired by the wall-drawings of Sol LeWitt at the Williams College Museum of Art. The Williams College Contemporary Dance Ensemble (CoDa) will perform LeWitticisms, featuring original choreography by faculty and students, and composer Tristan Perich will combine the harpsichord with electronic music in his original work Dual Synthesis. Free shuttle buses available for Williams students leaving Chapin Hall at 6pm and 7:30pm sharp. $5 for students; $8 for non-students. Limited space available. Tickets available at the door and through the MASS MoCA box office (413) 662–2111.
This event is presented in conjunction the exhibition Sol LeWitt: The Well-Tempered Grid on view at the Williams College Museum of Art September 15–December 9, 2012. Sol LeWitt: The Well-Tempered Grid is the first exhibition to focus on the centrality of the grid in LeWitt's art. The exhibition focuses on LeWitt's use of the grid as a generative matrix for his artistic production over the span of nearly five decades, from 1960 until his death in 2007.
Due to Hurricane Sandy, Tristan Perich will not be able to travel to perform at this evening's LeWitticisms program. The CoDa performances will take place as planned at 6:30 and 8:00 pm at MASS MoCA. We apologize for any inconvenience.
Share

Subscribe

Event Type

Department
Cost

$5 for students; $8 for non-students

Group