Berkshire Symphony: The Rite of Spring
Saturday, March 9, 2013 at 3:00pm
MainStage, '62 Center 1000 Main St, Williams College, Williamstown, MA 01267, USA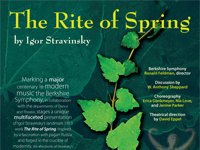 Marking a major centenary in modern music, the Berkshire Symphony, in collaboration with the Departments of Dance and Theatre, stages a unique multifaceted presentation of Igor Stravinsky's landmark 1913 work The Rite of Spring. Inspired by a fascination with pagan Russia and forged in the crucible of modernity, the aftershocks of Stravinsky's work still thread their way through the popular consciousness.
Director Ronald Feldman conducts the Berkshire Symphony. Professor of Music & Department Chair W. Anthony Sheppard gives a presentation about The Rite of Spring that explains why this piece caused a small riot at its premiere, and why it is still so powerful today. The presentation features contemporary choreographic responses performed by students under the direction of Dance Department faculty.
All three performances of Igor Stravinsky's The Rite of Spring take place in the beautiful MainStage Theater in the Williams College '62 Center for Theatre and Dance.
ALL PERFORMANCES ARE FREE, and no tickets or reservations are necessary. Seating is limited, so please arrive a half hour before the performance to ensure yourself a seat.
PARKING IS FREE in the parking garage located behind the theater.
Second performance on Mar. 9 @ 3:00. Families and school groups are especially welcome!
Share

Subscribe

Event Type

Department

Website
Cost

FREE