Berkshire Symphony
Friday, November 2, 2012 at 8:00pm
Chapin Hall 62 Chapin Hall Dr, Williamstown, MA 01267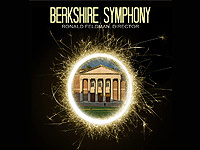 The Berkshire Symphony opens a new season with a concert that also celebrates the centenary of Chapin Hall as well as the birth of one of the 20th century's most influential composers, John Cage. His piece, 4'33" is one of his best known, and not uncontroversial. It has one thing in common with any great musical gesture in that it is provokes thought in every person who experiences it. Though the length of the performance is quite predicable, everything else about it is guaranteed to be unique.
The orchestra also presents Artist Associates Susan Martula, clarinet and Floyd Hebert, flute in the Double Concerto for Flute and Clarinet by Robert Kyr. The composer has been featured before by the Berkshire Symphony and enjoys the reputation as one of the most prolific and lyrical composers of his generation.
Andy Jaffe, Lyell B. Clay Artist-in-Residence in Jazz and Director of Jazz Performance, is a well-known jazz performer, arranger, composer, and author of seminal studies of jazz music theory. The composer blends African, American, and European traditions in a tribute titled Every Day Blues. Long a member of the Williams faculty, he remembers his colleague, Prof. Ernest D. Brown, using the initials EDB to construct and name the composition.
Presenting listeners with a sort of musical mirror, the orchestra also performs Symphonic Metamorphosis of Themes by Carl Maria von Weber by Paul Hindemith as well as the piece which inspired it: Turandot by Carl Maria von Weber.
The Class of 1960 Lecture Series presents composer Prof. Robert Kyr giving a pre-concert talk in Brooks-Rogers Recital Hall at 7:15pm on the evening of the concert. The recital hall lobby is directly adjacent to Chapin Hall.
Share

Subscribe

Event Type

Department

Website
Cost

FREE